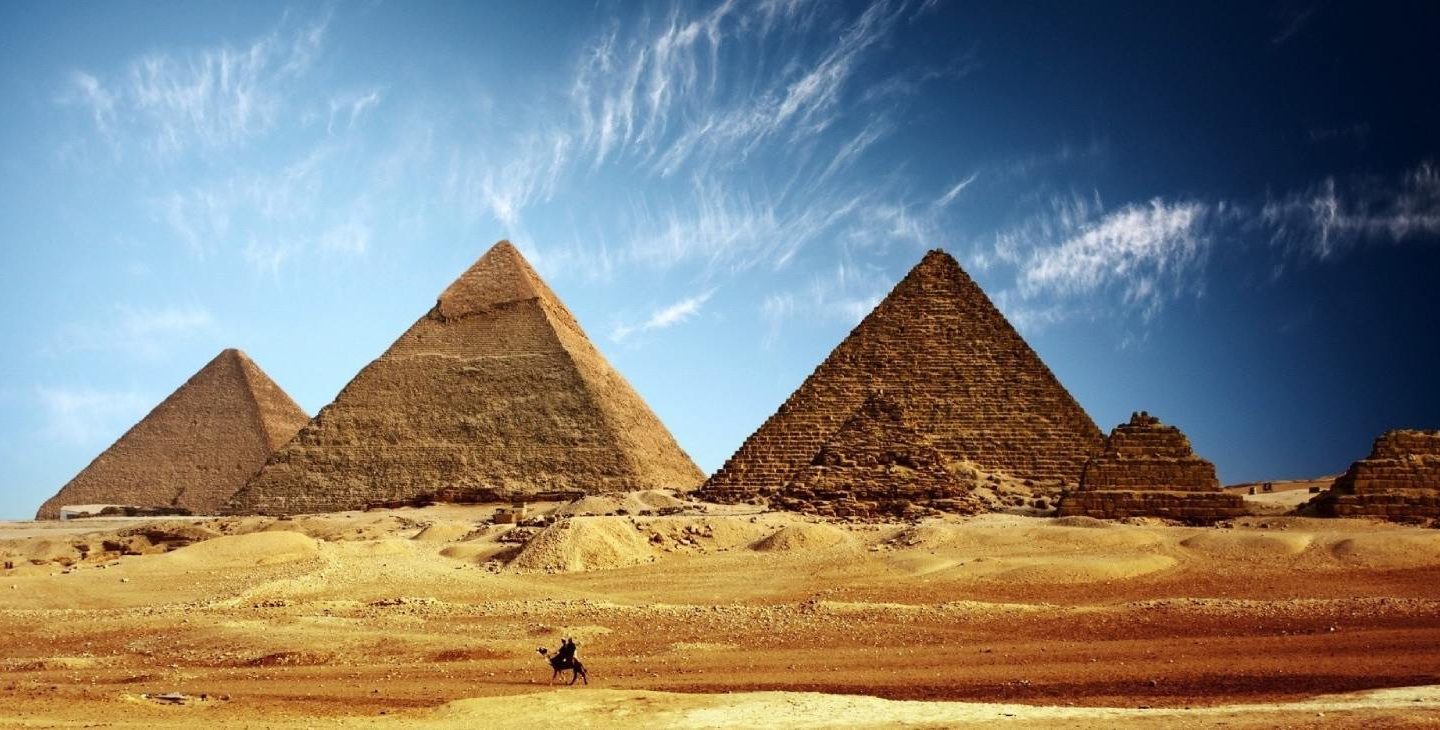 Scroll to Content
Egypt: Pyramids & the Nile #2
February 2-11, 2024 | US$ 5,690 ( Superior Room ) | US$ 5,390 ( Deluxe Room )
On this second journey to Egypt we will explore, with an expert Egyptologist, all the significant archaeological treasures and stellar museums in Cairo, cruise along the Nile River in style with exclusive use of a luxury dahabeya (a traditional Nile sailing vessel), go ashore to discover ancient Egypt's most awe-inspiring sites, and journey to Abu Simbel to discover the impressive rock-hewn temples of Ramses II and Queen Nefertari.  This adventure is sure to be a once in a lifetime experience!
February 2, 2024: Flight to Cairo, Egypt
Upon arrival on February 2nd, Lisa will meet you and transfer you by private vehicle to the historic Cairo Kempinski Nile Hotel, with a stunning location on the banks of the River Nile.  The Kempinski Nile is located on the east riverbank in the heart of the Garden City historic quarter, and is just minutes away from the Egyptian Museum.  Overnight: Cairo Kempinski Nile Hotel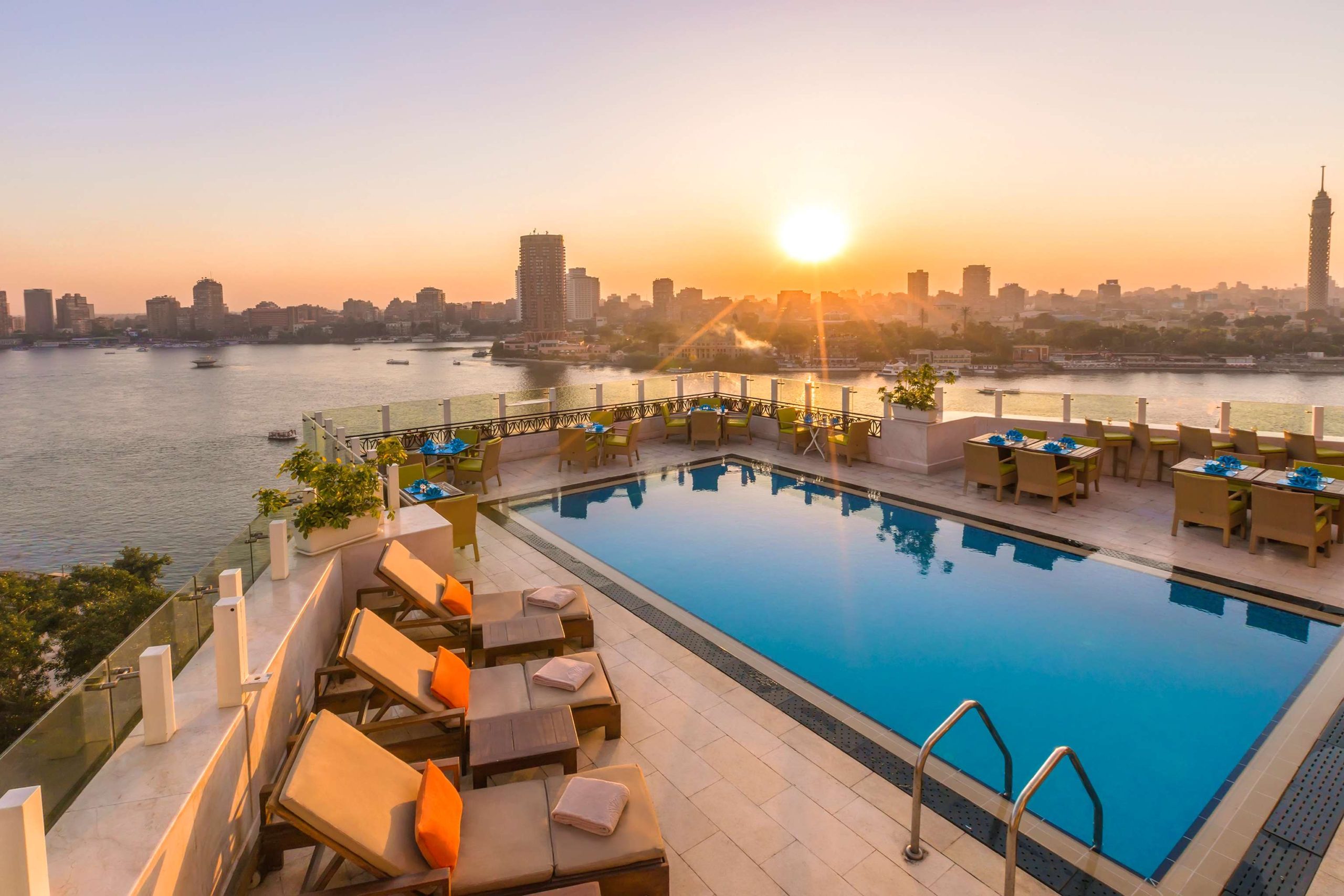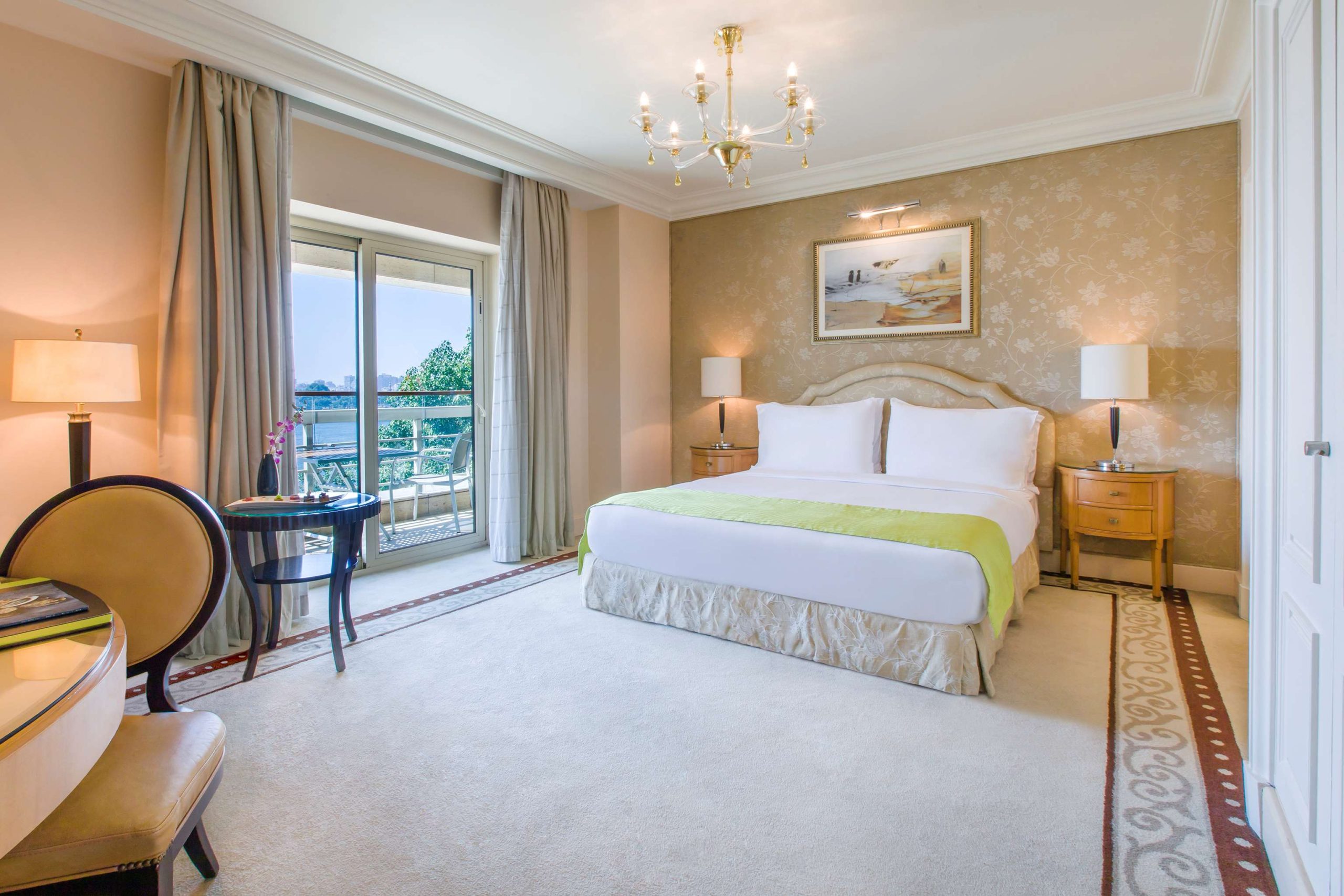 February 3,4: Pyramids, Sphinx & Museum
After breakfast overlooking the River Nile, we will start our adventure, accompanied by our private Egyptologist. Today we will visit the Giza Pyramids, the last remaining wonder of the ancient world, and the nearby colossal Sphinx. There is an opportunity to enter the interior of one of these legendary structures and to ride a camel across the sands of Giza. We will continue to learn more about ancient Egypt as we explore the Grand Egyptian Museum (assuming it is open) or the Egyptian Museum of Antiquities. Enjoy dinner on your own, possibly at one of the restaurants inside our hotel.
On the 4th, we dig a little deeper into Egypt's past by visiting the ancient capital city of Memphis, the famous Step Pyramid of Zoser in nearby Saqqara, and some of the most impressive and historically significant pyramids in Dahshur.  In the afternoon, we will head to one of Cairo's most picturesque areas, taking in the paths and alleyways of Khan El Khalili bazaar (souk). We will end the evening with a traditional dinner at one of Cairo's most iconic eaters and shisha bars.  Overnight: Cairo Kempinski Nile Hotel  Included: B, L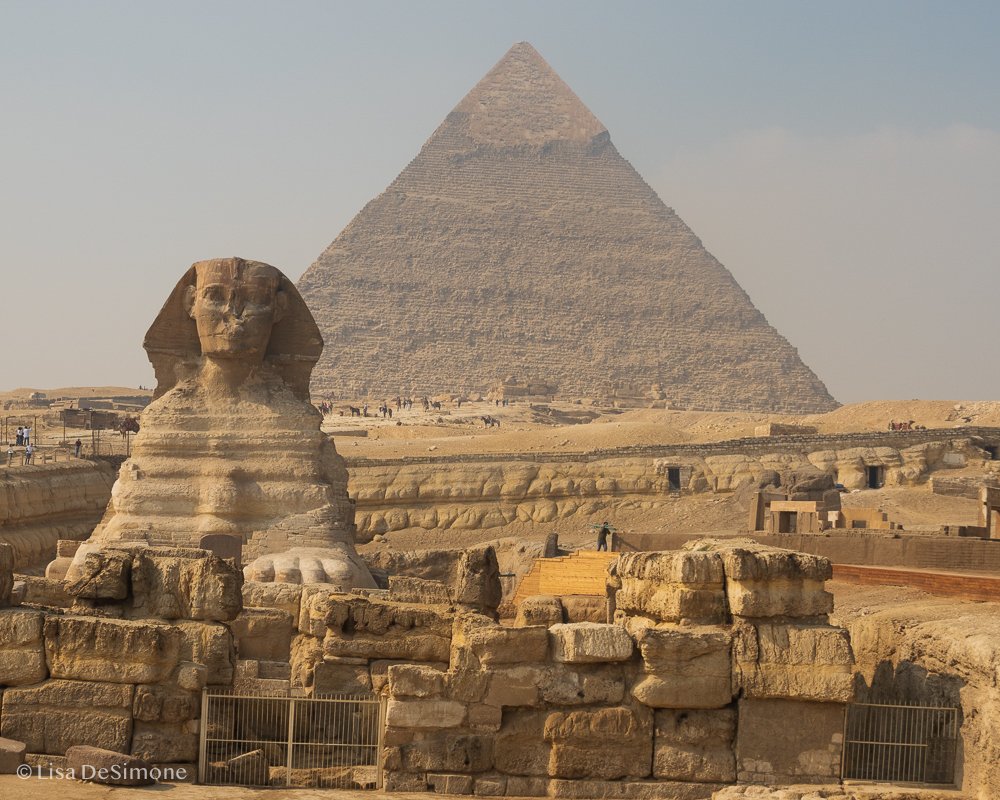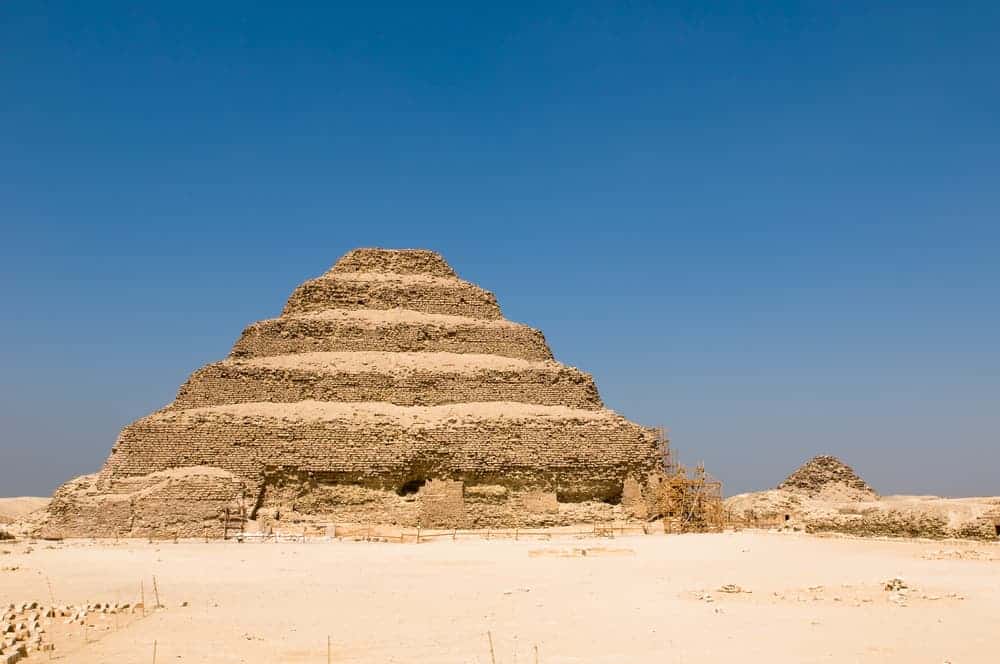 February 5,6: Old Cairo, Fly to Luxor
We start our last day in Cairo visiting the National Museum of Civilization, which houses 50,000 artifacts from pre-historic time to present, and a collection of 22 mummies (18 kings and 4 queens) on display in the Royal Mummies Hall.  Later, we will tour Old Cairo, within the boundaries of the Roman Fortress of Babylon. For 300 years, Egypt was a Christian nation and the most famous Coptic church in Cairo – El Muallaqa – is located in Old Cairo.  Later in the day, we will board a short flight (included) to Luxor, where we are transferred to our luxury dahabeya called Kemet.  Exclusively occupied by our group, Kemet maintains the classic dahabeya look and feel, while incorporating authentic Egyptian furniture and décor elements with an infusion of modern style art, colors and utilitarian function.
Rise early the next morning for an optional hot air balloon ride over the temples along the Nile.  After breakfast on board, we will being our exploration of Luxor, often referred to as an open air museum. The Nile River splits Luxor into two parts and we will spend our day exploring two of Egypt's most spectacular sites –  Karnak Temple complex and Luxor Temple.  The West Bank was the ancient Egyptian necropolis, and located here are the famous tombs in the Valley of the Kings (where the tomb of King Tut was discovered), the Valley of the Queens, the temple of Queen Hatshepsut and the Colossi of Memnon.   Overnight: The Kemet Dahabeya   Included: B, L, D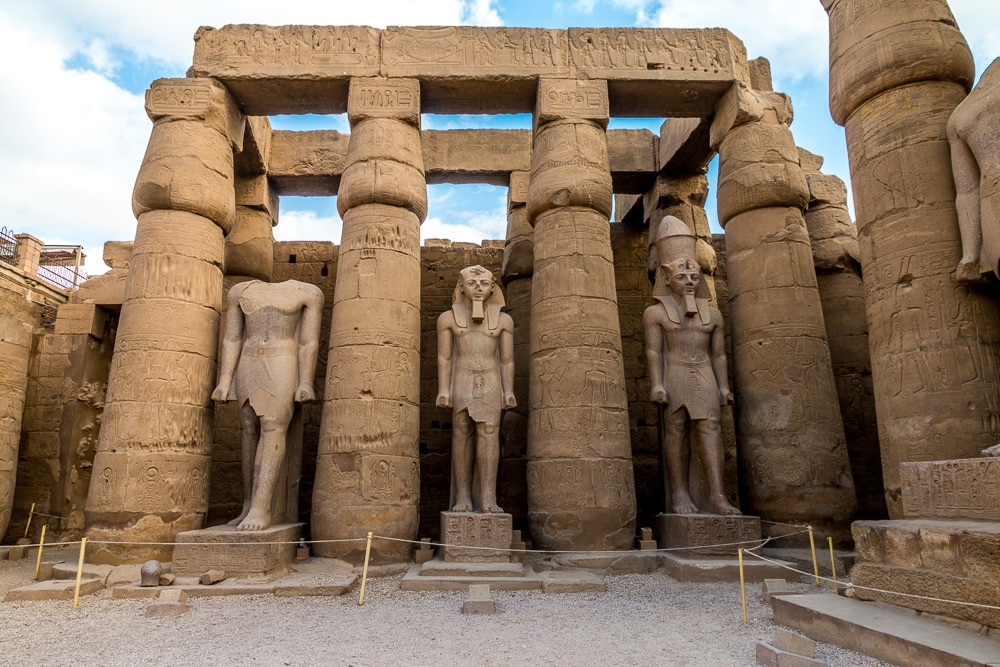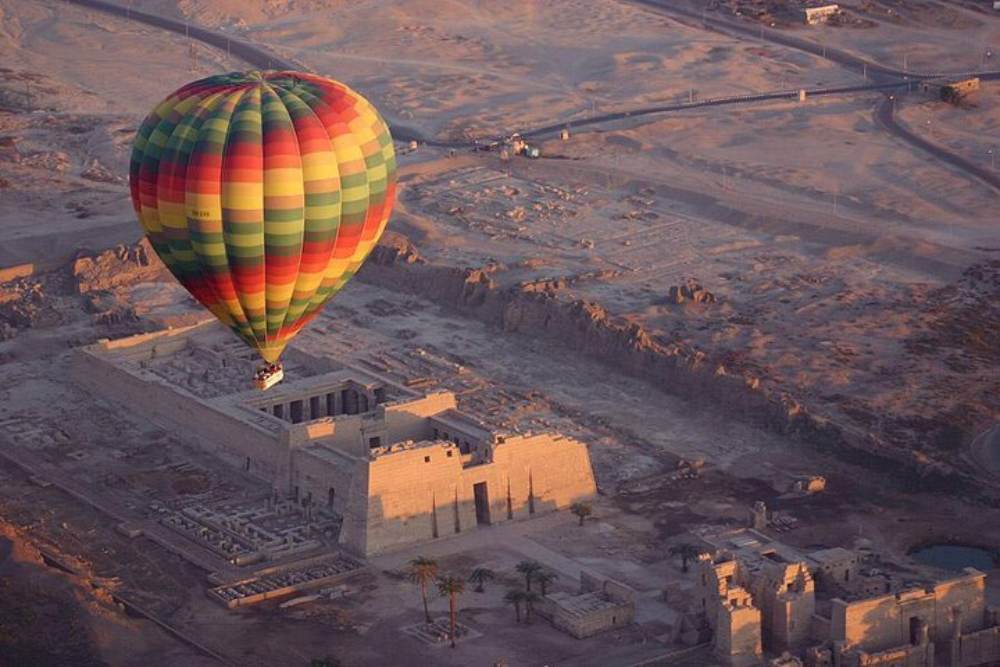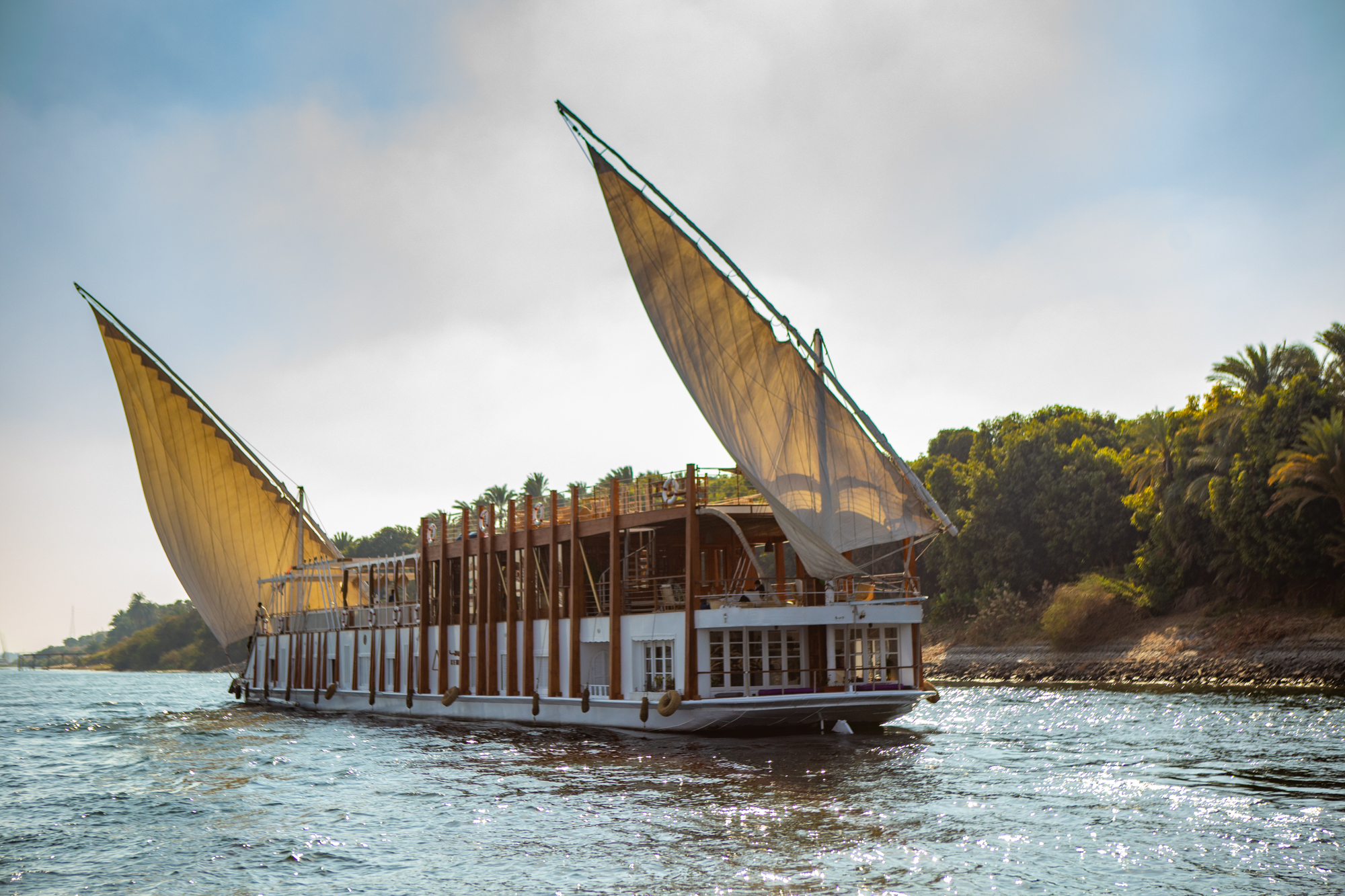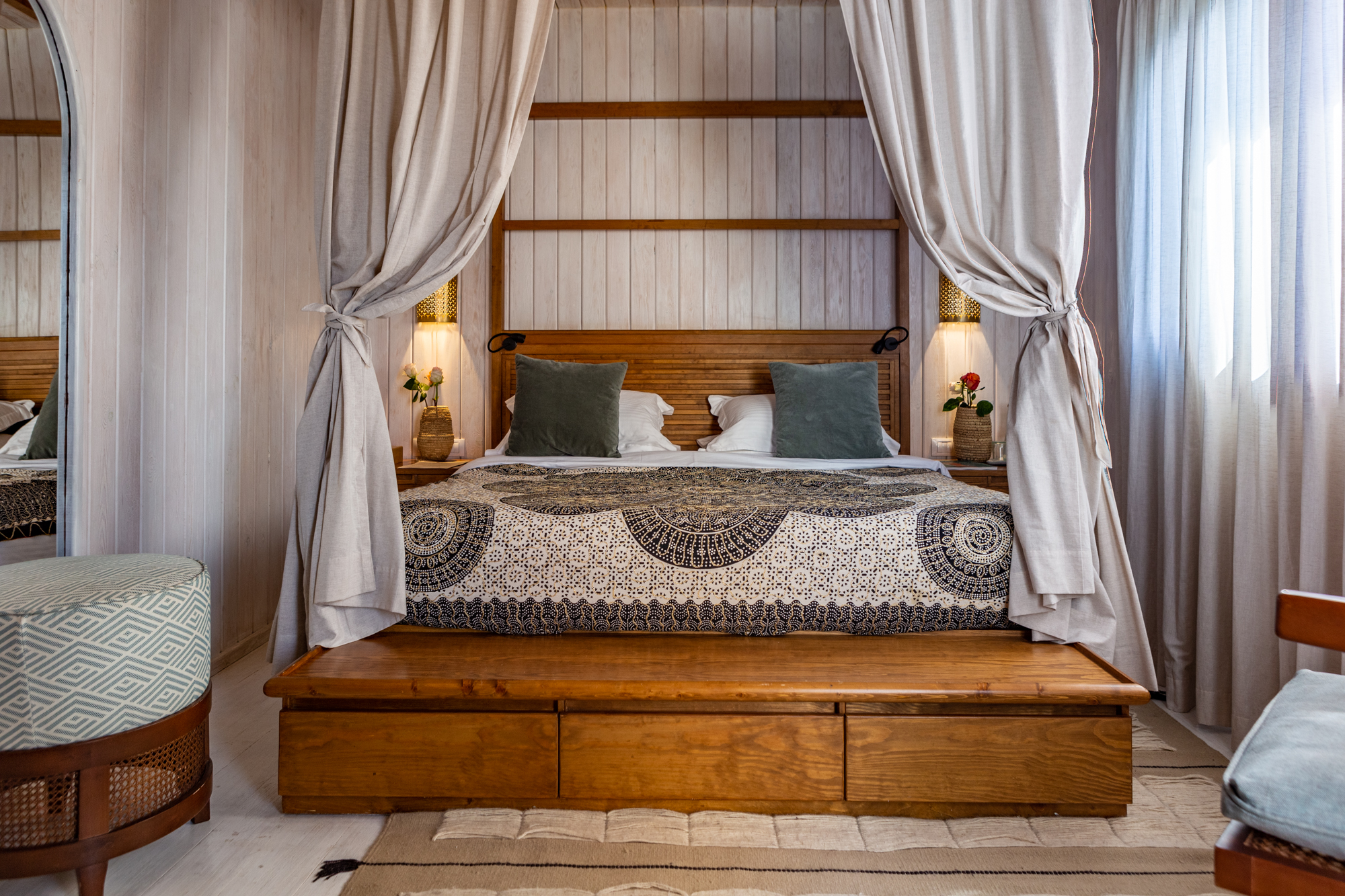 February 7,8,9: Cruising the River Nile
We will spend the next three days cruising slowly down the River Nile, going ashore to discover ancient Egypt's most awe-inspiring sites.  The voyage onboard Kemet explores the southern part of the Egyptian Nile Valley, starting in Luxor and traveling all the way south to Aswan.  Most days on board will take on a leisurely rhythm, with gourmet meals, temple visits and night-time entertainment.  The highest deck on the boat, the Stardeck, is a great place to view the surrounding landscapes glide by, sunbath or stargaze at night.  During our Nile cruise, we will go ashore to visit ancient sites and temples including the Temple of Horus in Edfu (the falcon-headed god of the sky), the Temple of Haroeris and Sobek in Kom Ombo, and some of the local sites in Aswan (such as Lake Nasser, the impressive Aswan High Dam, and an ancient granite quarry featuring the site of the Unfinished Obelisk).  Overnight: The Kemet Dahabeya   Included: B, L, D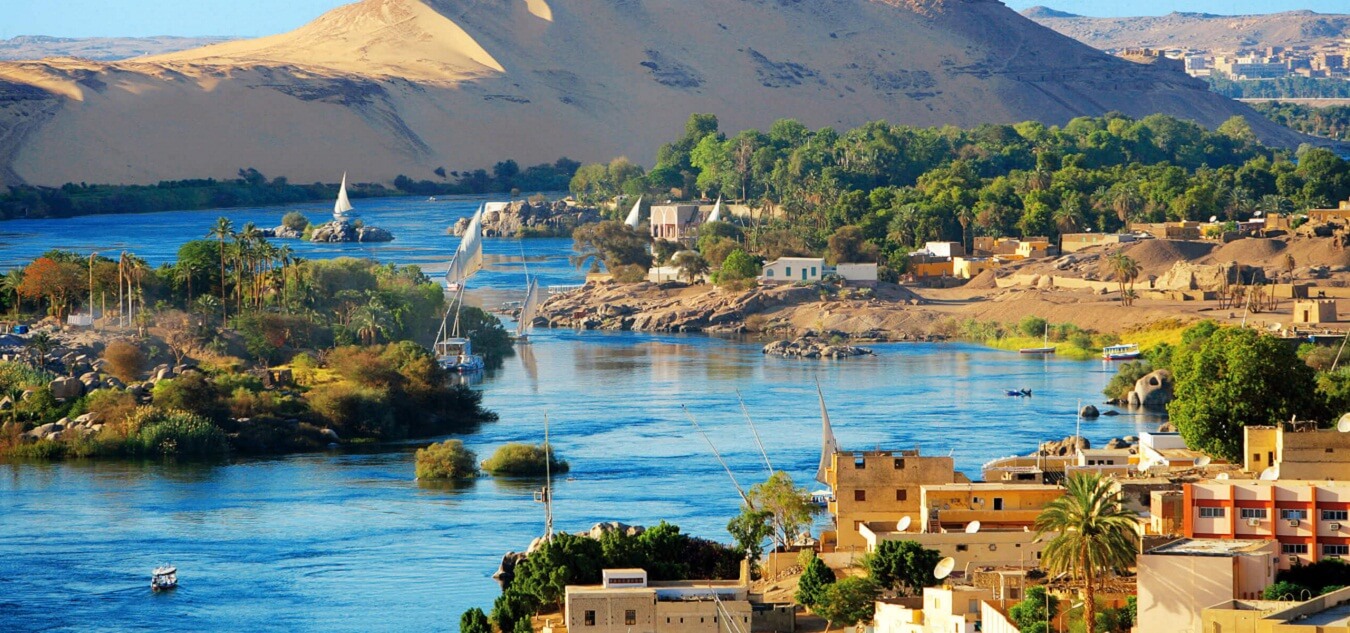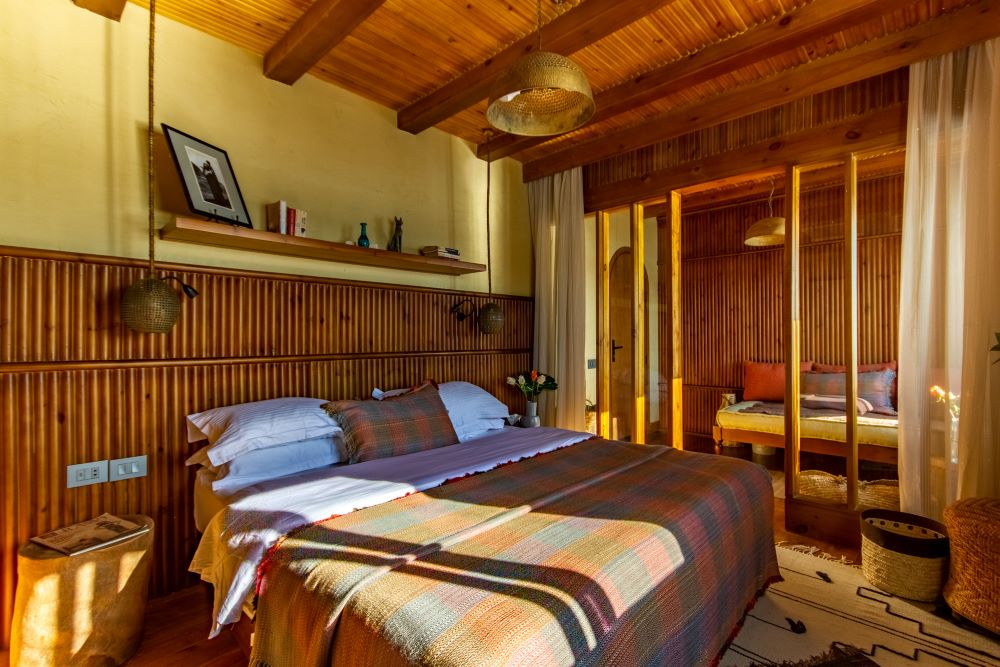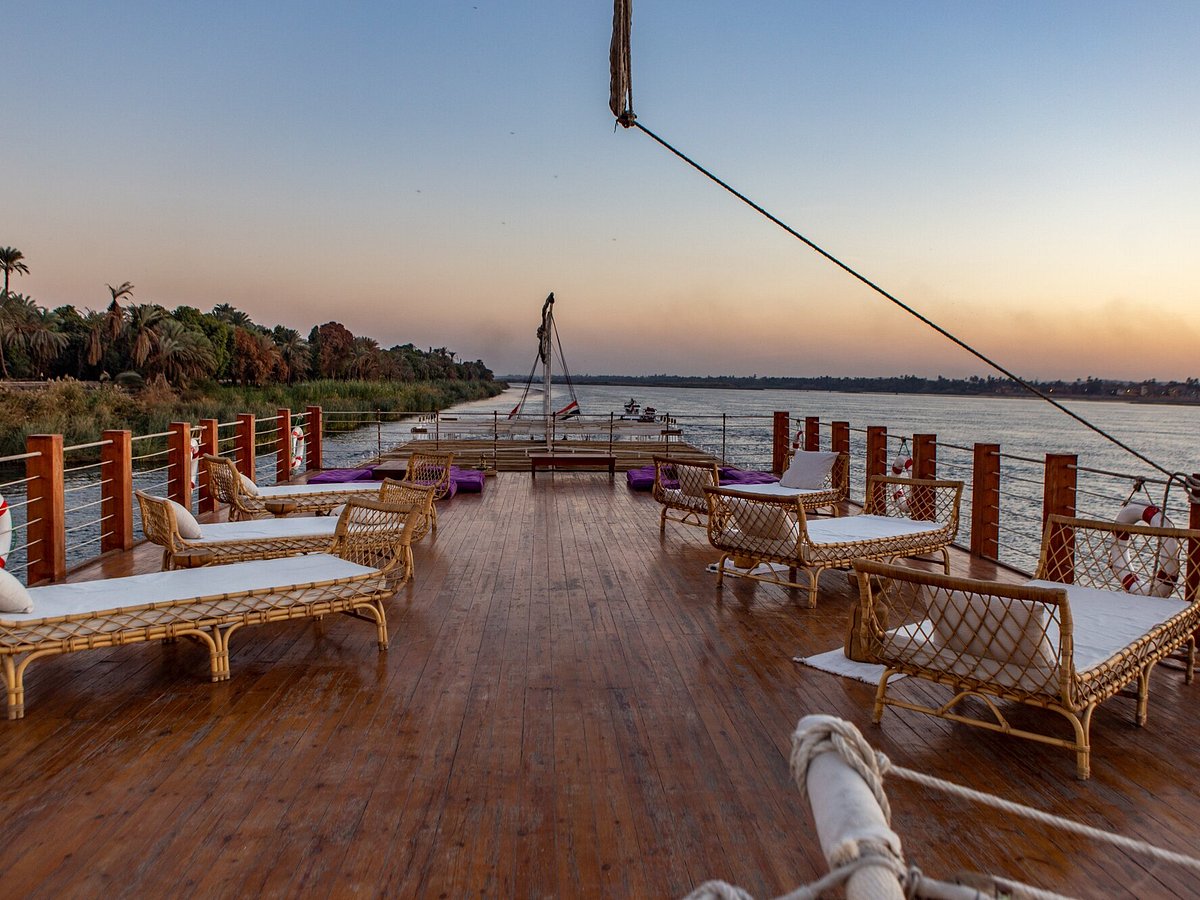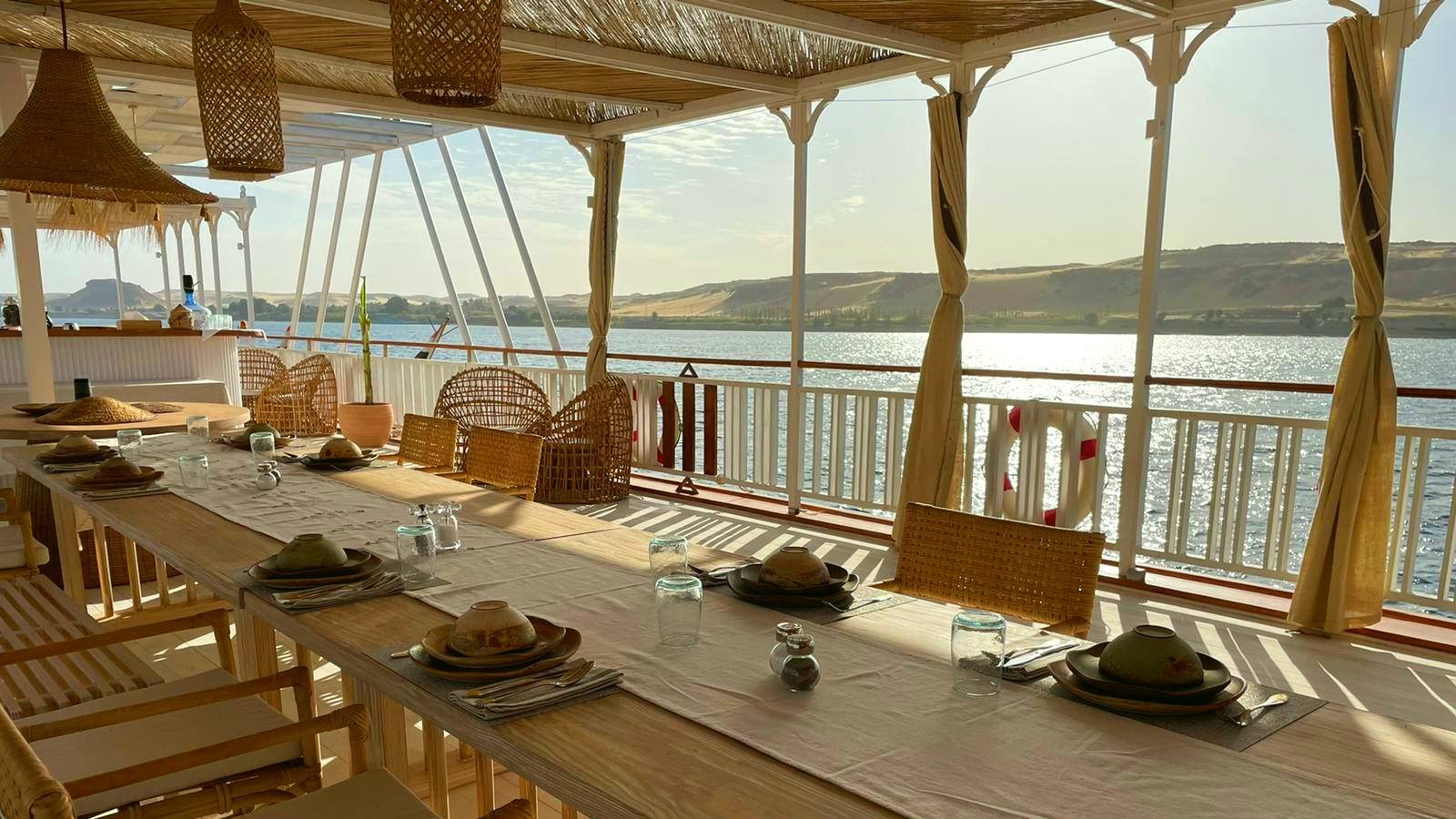 February 10: Discovering Abu Simel
This morning we will be met by our driver in Aswan and driven to the airport for our 9:55am flight (included) to Abu Simbel.   Upon arrival at 10:40am, we will be met and transferred to the Abu Simbel complex overlooking beautiful Lake Nasser and is known for the remarkable twin rock-cut temples of Ramses II and his wife, Queen Nefertari.  What may be even more remarkable is that this entire site was disassembled and relocated in 1968 to higher ground to avoid it being submerged by floodwaters caused by the construction of the Aswan High Dam.  We will spend a few hours here before being transferred back to the airport for our 1:40pm flight (included) back to Cairo.  Upon arrival at 4:20pm, we will collect our bags at the airport and make our way to the luxurious airport hotel for our last night in magnificent Egypt.  Overnight: Le Meridien Airport Hotel, Cairo   Included: B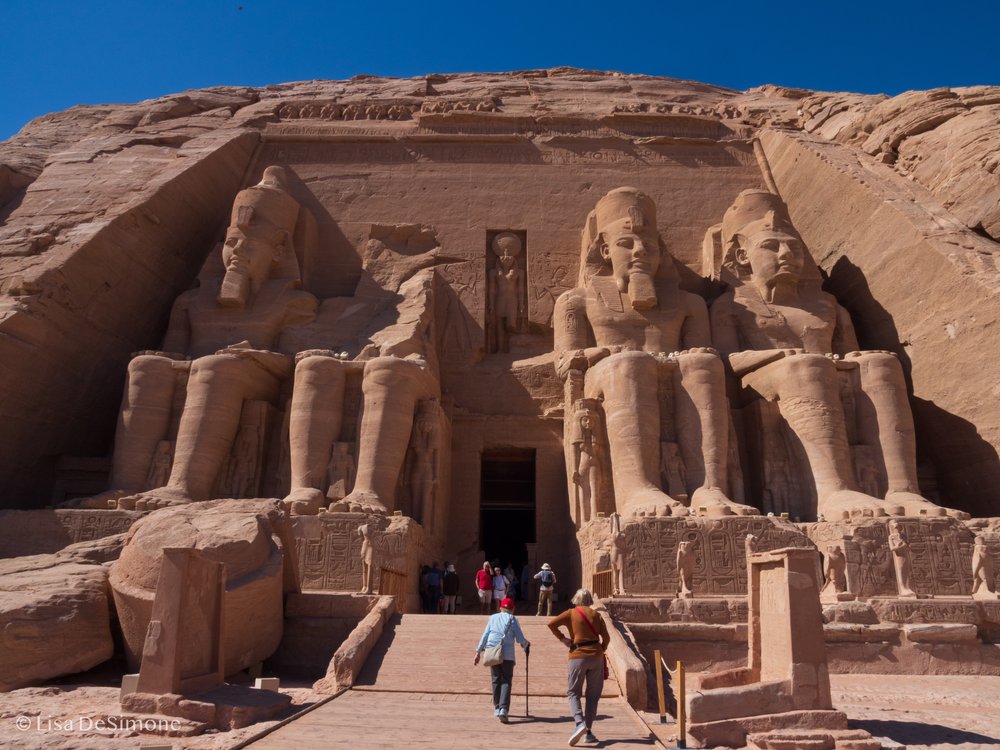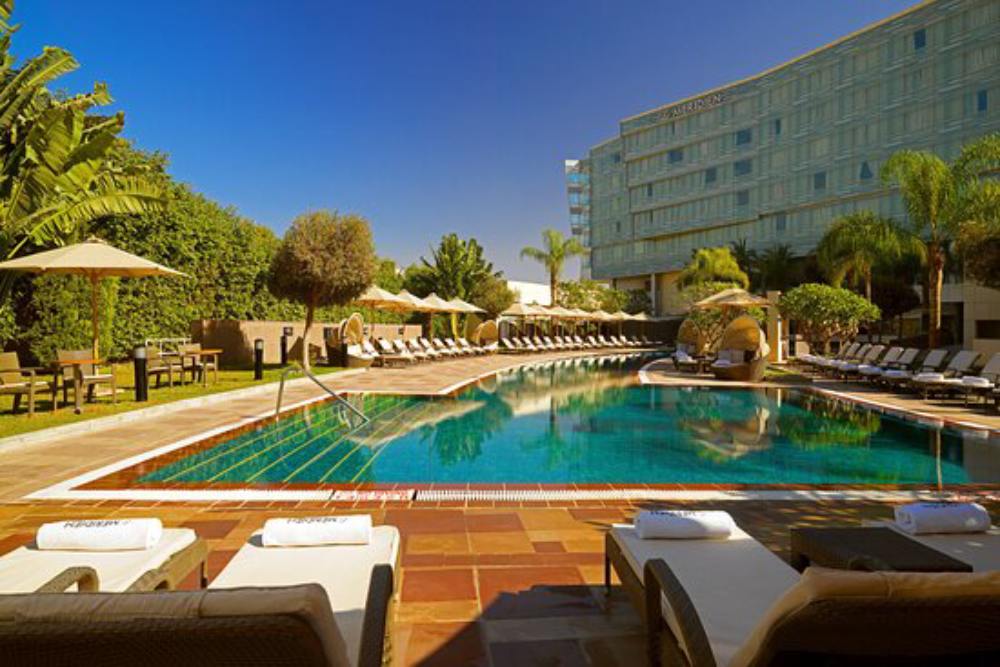 February 11: Cairo Departure Flight
After breakfast, proceed to the airport terminal for your international flight home, with visions of pyramids and pharaohs dancing in your head!
Included for this adventure:
En-suite accommodations (based on double occupancy) and all meals as per the itinerary.
Exclusive transport in private, air conditioned vehicles.
Services of exceptional English-speaking Egyptologist, knowledgeable of local region and culture.
Complimentary bottled drinking water with all your meals.
Snacks, hot and cold non-alcoholic beverages, fresh juices, and mineral water on board Kemet.
Three domestic flights as mentioned in the itinerary.
All site entry fees, airport transfers, and departure taxes.
Leadership in ethical, socially responsible practices.
Complete pre-departure information including packing lists, trip itinerary, and flight details.
Not included:
International airfare.
Travel/medical/cancellation/interruption insurance.
Single Supplement of US$ 800 (if you would like your own room).
Alcohol on board Kemet, or at meals.
Passport fees, inoculations, PCR tests (if necessary), and Tourist Entry Visa.
Gratuities for drivers, waiters, and room stewards.
Any optional excursions not mentioned in the itinerary.
Souvenirs, laundry, and items of a personal nature.
Travel with a purpose on a socially responsible safari.